Customer Management solutions that operators simply love.
Satisfied operators means happy customers. Flux is the software solution behind multiple service award winning energy retailers.
"What we're starting to see is that customers on the Flux platform require fewer service interventions and have less need to contact our Customer Care teams, while our agents are better able to service customers, more quickly."
Lisa Hannifin, CCO Meridian Energy
70% reduction in operator training time.
Multi service award-winning clients.
6% churn reduction.
Daily releases for constant product improvement.
End-to-end customer management efficiency.
With a single-view of customer and a focus on integration and process automation, Flux's Customer Management products can help operators deliver an efficient, accurate and satisfying customer experience, from onboarding to billing and debt management for revenue assurance.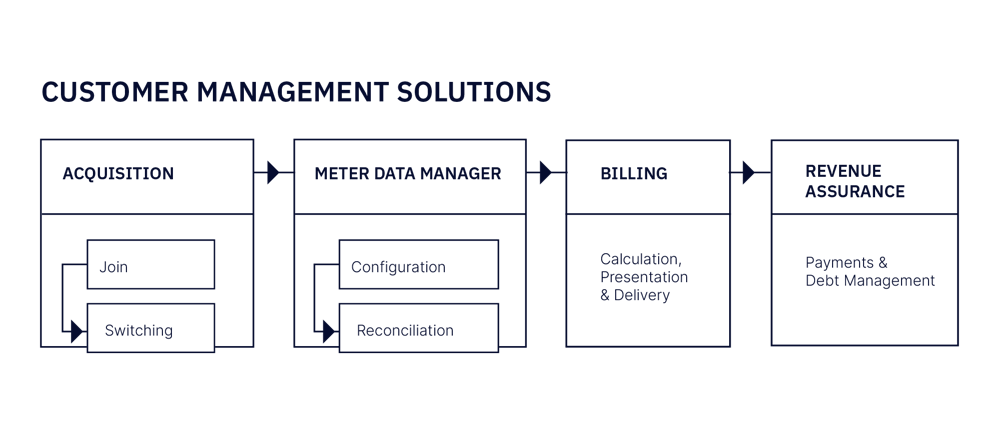 What could this look like for your business?

Improve operator accuracy
Process automation, enabled by secure data centralisation, integration with market leaders and a single customer record, results in improved operator accuracy and satisfaction. Reduce cost to serve, speed of processing and operational risk whilst boosting CSAT.

Reduce operator training time
Flux clients report a 3-5 day training period to operator competence, versus two-weeks plus on legacy systems. Front and back office employees only need to learn one system, and a single-view covers all aspects of the customer engagement which can be easily surfaced and acted upon by customer service.

New proposition testing
A sophisticated test environment allows for pre-production exploration and innovation without risks to the live app. Retailers can safely design, test and analyse new prices and propositions without fear of breaking current billing systems.

Secondary brand launch
If expanding your profitability through a secondary brand or white label partnership is your goal, Flux can make your journey simple. With multiple white label partnerships under our belt, we're adept at helping our clients launch and manage their white labels with speed and agility.

Industry process automation
Using high quality event streaming, Flux can automate standard industry processing to free operators from repetitive and time consuming manual tasks, thereby reducing cost to serve and error rates, and winning operator hearts.

Your use case here...
However you plan to win in customer and operator satisfaction, Flux's can help you design and deploy the Customer Management system you'll need to get there.
Talk to us
CASE STUDY - SAINSBURY'S
Speed to market with Sainsbury's Energy.
Flux client, Powershop UK, wanted to extend its customer book via a White Label partnership with the Sainsbury's grocery chain. Using Flux's ability to support multiple brands in a single instance, including a reskin of the web and mobile apps for Sainsbury's customers, Powershop was able to propose a market leading launch pathway to its new partner. From contract to having the first customer onboard was a mere 11 weeks, exceeding even Powershop UK's expectations. Plug in, with Flux.
Need to reduce cost to serve, retain top talent, or improve operator accuracy? Talk to Flux about how we can help you achieve your goals.