What to do, when the core of your business starts holding you back on your mission to 'boldly go' into the future of energy? For us here at Flux, the answer was erase the roadmap, buckle our seatbelts, and be prepared to hit reverse before shifting into high gear again.
We're used to sitting at the forefront of the energy future – you don't have the company values 'Boldly Go' and 'Think Beyond' without cause – so a tightly wound product set that once-upon-a-time disrupted the energy industry, but was more recently proving too inflexible to meet the needs of our evolving business, was something we were prepared to tackle head on. Our existing app offered the simplicity of an end-to-end energy retail solution, from prospect to pay and everything in between. But what of the clients that don't need the full suite? It was time for us to set the bar higher.
For clients, we envisioned an application pick n mix, of sorts. An á la carte experience to cater for more specialised business requirements. Brazenly, this meant we needed to take on the task of modularising a few parts of the app to change the way we work with energy data.
Refreshing how we do things meant we'd have the ability to shape the way consumption is tracked, measured and engaged with, opening up a whole new subset of development opportunities. Our goal was to deliver a product that adapts to a client's unique needs, and one that's an absolute delight to engage with. Simple, Flexible, Lovable; that's what we aimed to be.
"In order to keep disrupting the energy industry, we'd need to get comfortable disrupting ourselves.
So, how to tackle such a task? It would take a fast pace, a bold attitude, and a conglomerate of smart and diverse minds collaborating together. We'd be, in a way, reverse engineering parts of what we'd already built. Rethinking the way we approach future development, and revocabularising how we talk about our product. In order to keep disrupting the energy industry, we'd need to get comfortable disrupting ourselves. And as a woman well known for her appetite to get sh*t done, I was first in line to get involved.
Here at Flux, we're not shy of a good challenge. But of the two key challenges we faced in taking on this project, one was significantly less obvious than the other. Yup, we were staring wide-eyed at the architectural challenge of decoupling the app. But there was no way we could achieve that without a cohesive and aligned team. So, our adjacent challenge was to accommodate a wide range of personalities and ways of working, including remote workers and cross-functional teams. To create an effective working group, we split into two teams, and also worked closely in pairs to encourage participation by all involved.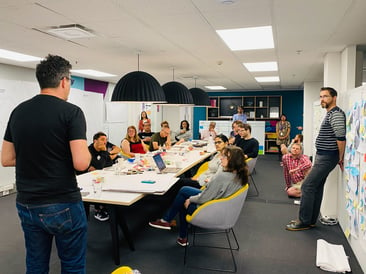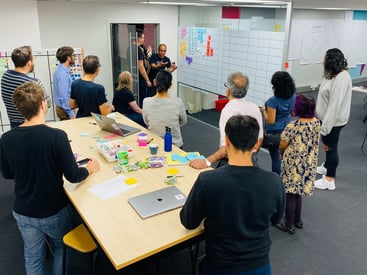 We began by asking some lofty questions – how could this work? We brought in the best of the best external architecture specialists to start thinking of the different ways we might tackle the issue. And once we had a basic prototype and discovery framework, we opened the doors. History told us we couldn't risk operating in silos on such a critical project, so we presented our solution to the wider company, and followed this up with an open-door design thinking workshop to bring new ideas and alternative suggestions to the floor.
Fresh eyes raised some really legitimate risk considerations that were easily skipped in the depths of solution discovery. We were able to understand the problem faster by offering the floor to an amalgam of perspectives and expertise, and we could ideate fast and broad. Bringing a whole bunch of ideas into consideration was positive for team culture and collaboration too, and meant we didn't waste time heading down a path we'd ultimately find unsuitable. We had the right people in the room early on, which we think will prove critical for success.
I'm excited about where this project will take Flux, for our people and most importantly for our clients. A whole new world awaits! But as motivating as this first leg has been, we've only just begun. Up next is breaking the project down into bite sized chunks, and tackling each in an agile and collaborative manner, with regular presentations, feedback and iteration. Buckle up and stay tuned – I'll be bringing you along for the ride!